Essential Vetiver: The oil of the earth
Vetiver essential oil is known to be a very viscous, very viscous oil. By the way, my supplier does not provide conti drip on these bottles of Vetiver oil.
I wanted to know more about this "oil of the earth". I offer you here the fruits of my research which will make you want to discover or rediscover this oil so rooted, so masculine and this so special plan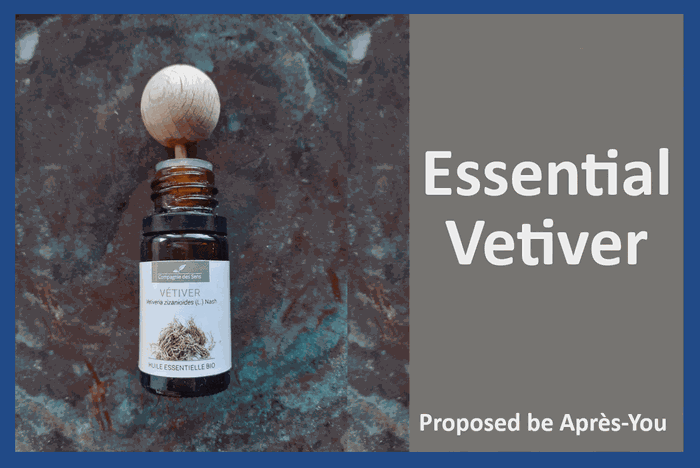 The essential about Vetiver
Vetiver essential oil is a viscous oil with an earthy, heavy, bewitching, woody, even smoky-sweet scent.
It is used in massage, in diffusion and in perfume (it acts as a fixative, thereby helping a perfume to last longer).
The plant is cultivated in many countries thanks to its incredible adaptive abilities.
---
Structure of the article
1. The aspect of this "root oil"

2. Harvesting the "Miracle Root"

3. Distillation of Vetiver Roots

4. The smell of this "oil of the earth"

5. The composition of Vetiver essential oil

6. How to Use Vetiver Oil

6.1 Calming

6.2 For the skin

6.3 Meditation

6.4 Perfume

6.5 Ideas for olfactory synergies

7. The Vetiver Plant

7.1 Using Vetiver Leaves

7.2 Using Vetiver Roots

8. Precautions for using Vetiver essential oil

9. To conclude

Resources

Very Essential People

Disclaimer

Pictures
---
1. The aspect of this "oil of the earth"
Essential oil of Vetiver is sometimes so thick and viscous that it is not uncommon to find the oil sold without any dropper whatsoever.
Like the root from which it comes, the colour of Vetiver oil tends towards earthy notes, ranging from yellow to dark brown or even a dusky green.
2. Harvesting the "Miracle Root"
In terms of essential oil, it is the root of the Vetiver plant that holds the greatest interest. The properties of Vetiver roots have been known for quite some time.
In fact, the name 'Vetiver' comes from the Javanese word "fragrant root" or the Tamil word for "chopped" (the roots have to first be cut before their aromatic molecules can be extracted).
This extraction requires a lot of work.
Imagine: on average, farmers have to move one ton of soil to obtain only a single kilo of roots!
One producer with whom I work has created a new technique to streamline this process; he grows the Vetiver in bamboo rods to make the unearthing more efficient.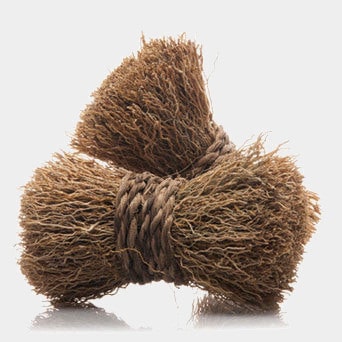 Once the roots have been dug up, they must be chopped and immersed in water. Interestingly, when dry, they are odourless.
3. Distillation of Vetiver Roots
Distillation is a long and involved process even at the best of times. In terms of Vetivier, it takes five people an average of two weeks to produce mere 20 liters of oil.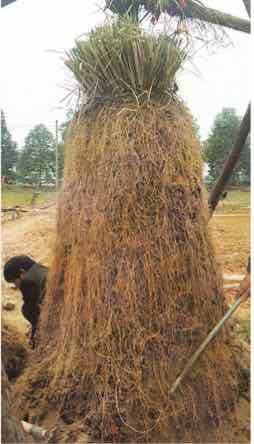 Directly following production, the oil must then be stored for a few months to rest. Just as is the case with wine, Vetiver has the peculiarity of improving with age.
And, like wine, the terroir and the know-how of the distiller are hugely influential for the type and variety of notes within each batch of Vetiver
4. The smell of this "oil of the earth"
Vetiver smells like enchantment. It is heavy, deep, warm, earthy and woody. If Ylang-ylang is a feminine scent, then Vetiver is its masculine twin. This is reflected in the fact that Vetiver can often be found as a base note in cologne. 
However, depending on its place of origin, the olfactory signature of Vetiver will differ.
If the oil comes from Haiti, it will be smokier and more earthy. Haiti has a long history with Vetiver. Vetiver was imported to the island by the French in the early 20th century. Today, Haiti is the world's largest producer of Vetiver.

If the oil was produced in Reunion or Sri Lanka, its odour will be more floral, sweet and even slightly caramelized.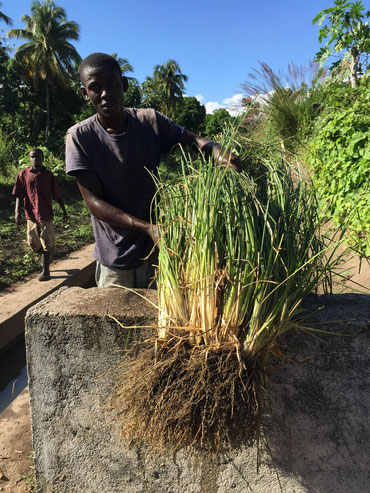 However, as mentioned, one cannot discount the affects of age in mellowing or tempering Vetiver oil. I have certainly experienced this myself. Each batch is an individual which evolves over time.
A new bottle is like a new friendship–easy and fun at first, and then deepening into growing attraction as time goes on.
The other unique trait of Vetiver which has caused this oil to be so widely used in the perfume business is the length of the odour's duration. Vetiver is a fixative, which enables a perfume to last for a greater amount of time.
This, too, is a trait which I can confirm from personal experience. While researching for this article, I smelled a variety of different Vetiver oils. An hour later, the earthy breath of the oil was still present in my nose. This characteristic can be explained chemically.
5. The composition of Vetiver essential oil
More than 150 molecules make up Vertiver oil. Among them are mainly sesquiterpenes, sesquiterpenoles and sesquiterpenones. Together, these molecules make up almost half of the oil.
Sesquiterpenes (anti-inflammatory, calming): beta-vetivenene (6.41%)
Sesquiterpenols (lymphatic and venous decongestant): khusimol (17.53%), isovalencenol (7.08%) (the combined total of these molecules gives the vetiverol)

Sesquiterpenones: alpha-vetivone (8.04%), beta-vetivone (6.79%)
Without going into details, Vetiver oil is composed of heavy molecules that take time to evaporate. You can see this in the prefix associated with the molecules in the list above.
"Sesqui" means 1.5 times. So, "sesqui" molecules are 1.5 times larger than "mono" molecules such as the monoterpenes which are the most frequent molecules in most other essential oils.
These molecules are the reason for which Vetiver is so thick as well as why its lovely fragrance remains for such a long time. This particular chemical composition gives Vetiver some very interesting properties.
6. How to Use Vetiver Oil
Vetiver is a fair weather friend as well as a friend indeed when you are in need; it applies to many different situations.
6.1 Calming
This oil is perfect in massage when combined with a vegetable oil to help in relaxation or even falling asleep.
6.2 For the skin
Vetiver is excellent for the skin, particularly when used in massage, and is particularly effective on the legs. "The oil of the earth" is known for promoting blood circulation and for assisting with the healing of cuts and acne, etc.
Tip
So why not combine its calming and beneficial effects for the skin by adding a few drops of Vetiver to some Epsom salt in your bathwater?
6.3 Meditation
In diffusion, Vetiver will keep you grounded. Its metaphysical properties mirror the origins of the oil from the roots of the plant.
6.4 Perfume
Vetiver is commonly used in perfume as a fixative. That is to say, that it is used to help a perfume "go the distance", so that the odour lasts. It is also often found in cologne.
6.5 Ideas for olfactory synergies
Vetiver essential oil goes well with different notes such as:
floral, such as Ylang-ylang, Geranium, or Lavender
fresh like Sweet Orange, Grapefruit or Peppermint
citrus fruits such as Lemon or Bergamot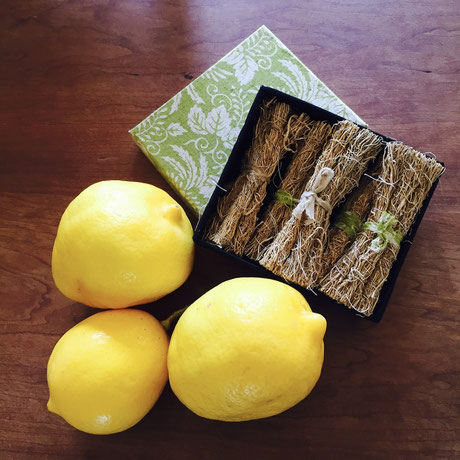 Tip
I use a little wooden diffuser directly in a bottle of Vetiver which I put in my wardrobe. It scents my clothes very gently (and also has the added advantage of keeping any bugs away).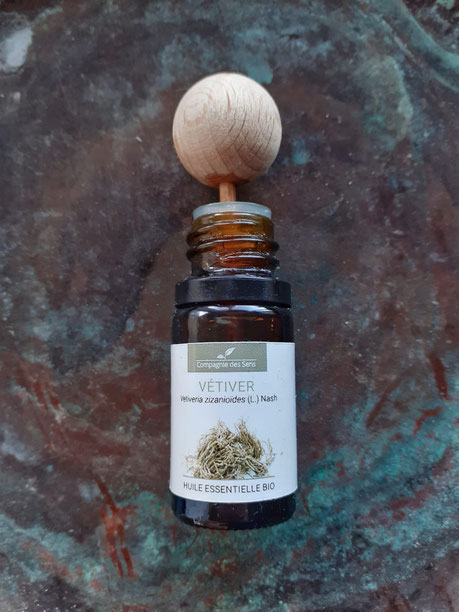 Interestingly, Guerlain, the famous French perfume house sold bundles of Vetiver root branches in its shops in Paris as an insect repellent.
7. The Vetiver Plant
Vetiver is a grass, just like sorghum, corn/maize or sugar cane, and is native to Sri Lanka.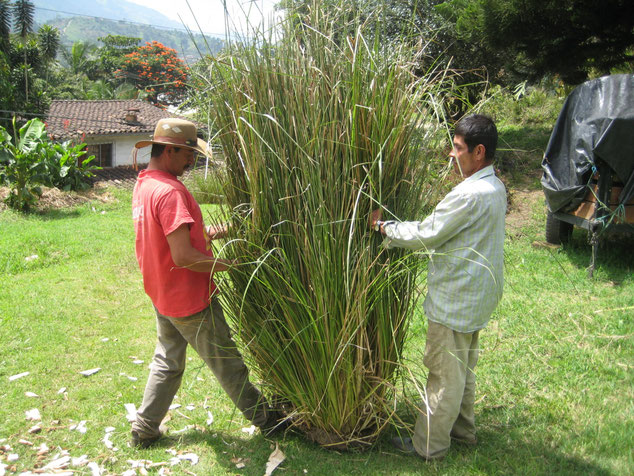 Its Latin name is beautiful:  Vetiveria zizanoides which means "from the edge of the river".
Today, this plant is cultivated in more than 100 countries around the world. It is particularly suitable for cultivation in regions with difficult climates, as it is very resistant to drought, fire and frost. In addition, it is not considered invasive.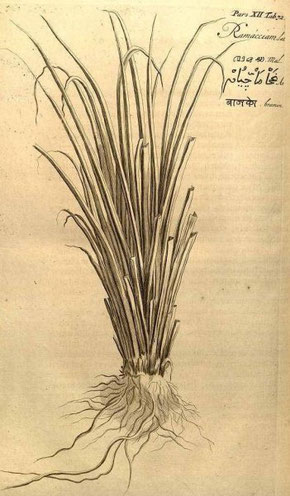 Tip
Although the root of Vetiver is used for essential oil, as is the case with flax, humans can use all parts of the plant, both the roots as well as the aerial part.
7.1 Usages of Vetiver Leaves
The leaves of Vetiver can be used as fodder for livestock or as mulch for protecting crops like coffee or cocoa. Vetiver mulching makes it possible to limit the use of insecticides, fungicides and herbicides, naturally fights evaporation and furthermore brings organic matter to the surface.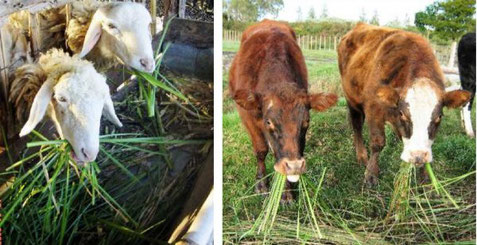 7.2 Usages of Vetiver Roots
Although Vetiver roots will eventually be distilled to produce the fragrant liquid we know and love, they are also beneficial to agriculture even while they are growing!
In particular, they stabilize the soil by fighting against erosion and by thoroughly cleaning polluted soil or water through filtration.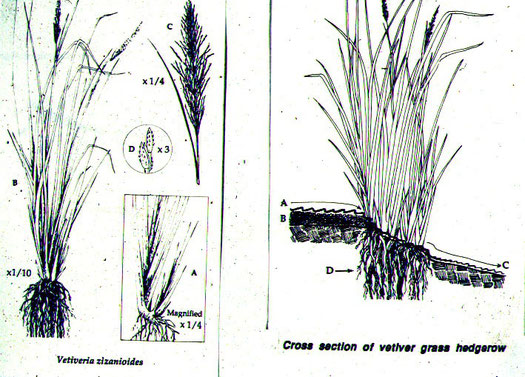 The roots have also been used in the production of curtains, sandals, carpets and roofs...

Not only is Vetiver a very interesting plant, but it is a friend in fair weather or foul!
8. Warning for Vetiver essential oil
To return to Vetiver essential oil, there are a few precautions which one should keep in mind.
In general, Vetiver oil is quite easy to use by respecting common sense and general good practices, such as dilution in vegetable oil before massage.
Pregnant or breastfeeding women should avoid this oil as those who suffer or have suffered from hormone-dependent cancer.
In general, Après-You does not recommend the ingestion of essential oils and Vetiver is no exception to this recommendation.
Similarly, sensitive persons or children under the age of six should are not recommended to use essential oils.
9. To conclude
Vetiver is a very interesting oil for relaxation as well as in massage and to help blood circulation. In diffusion, it has grounding properties which may be particularly beneficial for meditation.
The roots of Vetiver draw their energy from the depths of the earth and give us an essential oil that is rich, warm and deep; with the particularity that their smell broadcasts for some time.
Many countries cultivate this plant which is beneficial for agriculture and which can be used in many different ways (both roots as well as aerial parts). Both the roots and leaves play an important role in soil conservation and development in regions with difficult climates.
Ressources
Very Essential People
You can be part of the VEP group.
You will get informed of the new articles and you will get discounts on the Après-You e-shop, you just have to sign up.
It is free and without engagement.
Disclaimer
I do not pretend or want to replace any medical judgment or prescription. All the information within this post is intended to be informative! Please, always use essential oils carefully and with respect. In case of doubt, always ask a medical professional first. 
Pictures
If you have any questions or remarks about the pictures and credits, feel free to send an email to info@apres-you.com.