Après-You's Night Essential-Kits include three bottles of high-quality, organic essential oils curated for you with a special goal in mind.
Night Essential-Kit comes with 
a beautiful box* that can be used to store the oils or as a giftbox. 

An empty bottle is offer to simplify your blending.
* The coloration of the boxes can differ slightly from those in the pictures.
Night Essential-Kit
Three organic high-quality essential oils in one box to help you fall asleep easily and gently.
The three essential oils
Petitgrain Bigarad (Citrus × aurantium ssp. amara)
Green Tangerine (Citrus reticulata Blanco)
Sweet Marjoram

 

(Origanum majorana)
The oils are certified organic.
They are coming in 5-ml brown glass bottles (to preserve the quality of oils) except the Petitgrain which is a 10-ml bottle.
The bottles also have a dropper to help you to get the right amount of the blend.
Why these aromatic oils?
Petitgrain is conisdered by many aromatherpists as an adaptogen. This means that the smell will help you to calm down if you are too nervous or to boost your energy levels if you are feeling run down.
Green tangerine is a sedative oil. Its fresh smell aids in falling gently into sweet slumber.
Sweet marjoram has been used to calm and to de-stress for many centuries. In the form of an essential oil, Marjoram will bring these effects to bear, especially when you want to fall asleep.
Night Essential-Kit
Limited Availability
-5 days delivery time1
Lavender essential oil is trationnally recommanded to help falling asleep.
So this aromatic oil can easily be used in addtion to this kit to creat a unique calming perfum.
Because it also is an oil that most people have at home, Après-You decided to avoid it in this kit and to bring aramathusiasts out of the already paved roads.
You also can add it to your cart here;)
Diffusion is certainly the best way to use these oils. Use them independently, or in a blend, there is no limit to your imagination.
Always try with one drop first, and add more drops to get a better and longer effect.
If you mix the three oils, start with one drop of each and adjust accordingly.
That is the real beauty of aromatherapy. You play as you like.
As a rule, try with one or two drops the first time.
It is easier to add more drops if  it is not strong enough. But too much can provoke the opposite result. In that case, you will not sleep:/
When you are a VEP member, you have access to a Blending Calculator that helps you to balance your mixture quickly.
In our case, when you use the calculator you obtain this recommandation of proportion: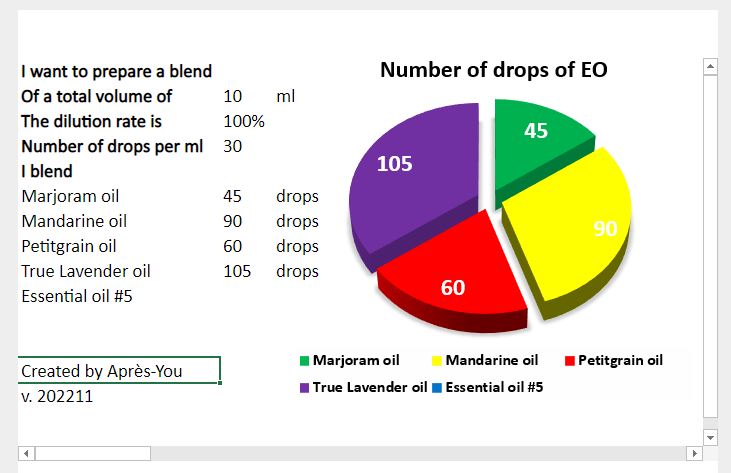 If you want to become a Very Essential People which is free, it is here.
You can learn more about the Blending notion behind the calculator here.
Après-You does not recommend the ingestion of essential oils.
If applied to the skin, dilution with vegetable oil should be the rule especially if it is Peppermint or Lemon. Do not expose skin massaged with Lemon to direct sunlight.
Après-You does not pretend nor wants to replace any medical judgment or prescription. All the information within the website is intended to be informative!
Please, always use essential oils carefully and with respect. In case of doubt, always ask a medical professional first.
In order to always be able to offer you the best products, Après-You is constantly sourcing new essential oils. For that reason, it can happen that the website is not up-to-date. Après-You's information and photos on this website are non-contractual and are subject to change without notice.
If you do not receive the products you were expecting,  please, contact Après-You by email at info@apres-you.com before opening the products (especially essential oil bottles).